Reposition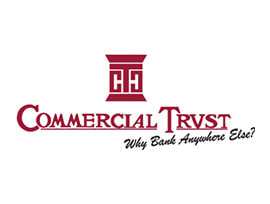 Commercial Trust Company of Fayette
See important news update
Fayette, Missouri
Company size: 11-50
Commercial Trust is mid-Missouri's premier community bank. It offers the ease and convenience of online banking. One can check balances and make transfers any time, and let NetTeller help to pay bills simply and quickly. Commercial Trust has locations in Fayette and Harrisburg, where friendly and efficient banking experience is provided. It is the personal touch, along with the most up-to-date financial products, that has kept folks coming back to Commercial Trust for over one hundred years.
Commercial Trust Company of Fayette's Recent News & Articles
You've reached your limit of posting 20 news per week.