Reposition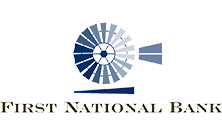 The First National Bank of Syracuse
See important news update
Syracuse, Kansas
Company size: 51-200
First National Bank has been serving the communities of Southwest Kansas for over 100 years, with main bank located in Syracuse, Kansas, a branch in Johnson, Kansas, and two branches in Garden City, Kansas. The bank strives to be the premier financial institution in the area and is committed to providing the best personal service, along with the most modern conveniences and technologies. Its roots are in agriculture, with loan expertise in farming, ranching, and dairies.
The First National Bank of Syracuse's Recent News & Articles
You've reached your limit of posting 20 news per week.