Reposition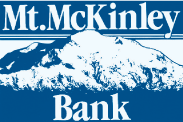 Company size 51-200
Fairbanks, Alasaka, United States
Mt.
Mt. McKinley Bank is a community bank located in Fairbanks, Alaska. It is the oldest and largest local financial institution in Fairbanks. Bank's services now include individual and business checking accounts, personal and business savings accounts and certificates of deposit, all types of commercial and consumer loans, safe deposit boxes, contract collection services, IRAs, Internet Banking and Bill Pay, ten ATM machine locations with much more on the way.
Categories
Commercial Banks
Showing  0 – 

0

  of 0  reviews
Showing  0 – 

0

  of 0  reviews
Have an opinion to share? Write a review to help others decide
Recent News & Articles
You've reached your limit of posting 20 news per week.