Reposition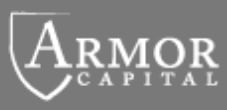 Company size 1-10
AUM Up to $2 billion
New York, New York, United States
Armor Advisors, L.
Armor Advisors, L.L.C. d/b/a Armor Capital is an independent, SEC registered investment adviser based in New York founded in 1998. Armor Capital provided investment management services to private investment funds focused on long and short positions in publicly-traded equity and fixed income securities.
Categories
Investment Management
Showing  0 – 

0

  of 0  reviews
Showing  0 – 

0

  of 0  reviews
Have an opinion to share? Write a review to help others decide
Recent News & Articles
You've reached your limit of posting 20 news per week.