Reposition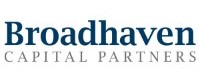 Broadhaven Capital Partners
Company size 11-50
New York, New York, United States
Broadhaven is an independent investment bank serving the financial services industry. It operates as a traditional merchant bank, where strategic and financial advisory services are offered alongside investment capital. As an independent investment bank, it provides strategic and financial advice on mergers, acquisitions, restructurings, valuation and capital structure to corporations, partnerships, institutions and governments. As an investor, Broadhaven focuses on early-stage opportunities within financial services and invests where technology and finance intersect.
Broadhaven Capital Partners's Recent News & Articles
You've reached your limit of posting 20 news per week.